Libertarian Party of Queens County
Libertarian Party of Queens County
How Can Libertarians Win in New York State?
Free Your Mind, Free Your Vote
#1
Financial accountability and transparency for the MTA
#2
A more affordable New York (lower property taxes)
#3
#4
Limit the necessity for multiple jails by ending the drug war
#5
Protect Our Ballot Access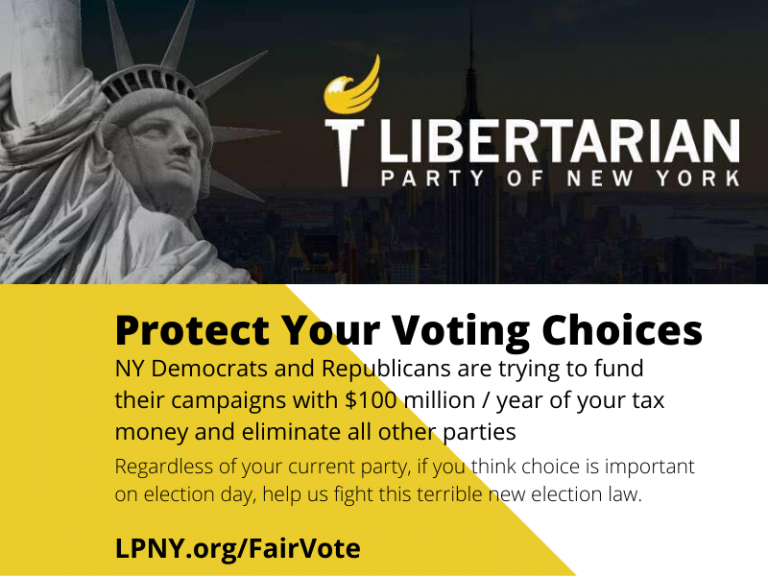 I am a voter in your district and I do not support the Campaign Finance Commission's efforts to destroy the Libertarian Party and other parties in New York that aren't Democratic and Republican. I am enrolled in the (INSERT YOUR PARTY HERE) party. The Democratic and Republican Parties are in control of every aspect of the rules for their political competitors and cheating those other party competitors is unacceptable. I deserve to have choices and I want to be able to tell my friends and family that my representative didn't try to stay in power by cheating your smaller competitors.
Take Action Today to Protect Your Voter Options in NY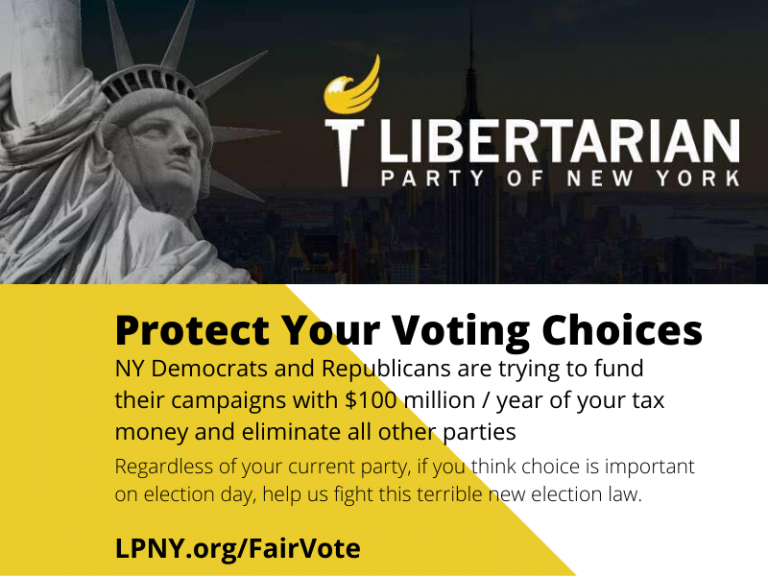 The Libertarian Party jumped the hurdles that the Democratic and Republican Parties created for competing parties to gain ballot access in NY. We worked hard in 2018 to have the Libertarian party listed on the ballot and on voter registration forms. Now that we're growing rapidly, with historic candidate wins on the Libertarian line in 2019 and rapid growth in voters choosing the Libertarian Party on their voter registration forms, the Democratic and Republican parties are trying to rig the rules to stop us.
5 Solutions the Public Advocate Should Deliver for New York City
The New York City Public Advocate is a poorly defined position that, over its 30 years of existence, has often been used to advance the political interests and status of career politicians. I'm running for Public Advocate because I want to do something very different with the office: turn it into a "startup" working in the public interest to deliver real products and services that improve New Yorkers' lives and helps under-resourced civil servants modernize our city's government…